Brit Hotel Tours Sud - Le Cheops
Hotel - Restaurant - Seminar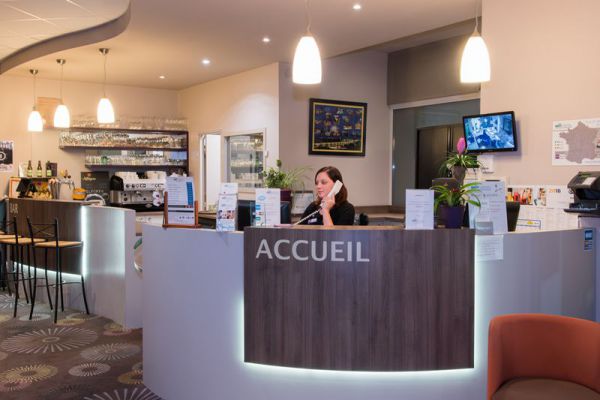 Brit Hotel Tours Sud - Le Cheops is located in Joué les Tours and has 58 comfortable rooms divided into 6 categories: from the "cosy single" to the family room via the "Business Balnéo".
In the heart of the Loire Valley and its castles, the Brit Hotel Tours Sud - Le Cheops is ideal to welcome many tourists and many families. Parking spaces are available behind our hotel.
Companies benefit from the seminar room of the Tours Sud hotel, equipped with adequate equipment, as well as an unlimited and free WiFi connection.
Le Cheops restaurant is only open in the evening to delight our business or visiting customers. Our chef highlights, through his cuisine, the products and wines of Touraine.
Located south of Tours, Brit Hotel Cheops is easily accessible from the nearby A10 and A85 motorways. Also, quickly access the city centre of Tours thanks to the tram stop at the foot of the hotel.



Check-Out
11h
Reception

Home 24H/24

Night watchman

Luggage

Elevator

Check-in
15h00

Check-out
11h00

Safe
Restaurant

Restaurant
Stopover : 92 € à 133 €

Air-Conditioned Restaurant

Traditional cuisine

Restaurant nearby

Snacking

Room Service
Bathroom


Balneo bathtub


Hairdryer
Animals

Animals accepted
Labels

quality Tourism

Home Cycling

France vélo tourisme
Wellness Area

Jacuzzi
Method of payment accepted

Credit Card

Holiday vouchers

American Express
Breakfast

Breakfast Buffet : €13,00
Bar

Bar

Games
Rooms

58 rooms

Air-conditioned rooms
Room Facilities

Phone

Télévisions Satellite
Internet

Free Wifi

Optical fiber
Car-Park / Garage

Parking free close

Coach parking
Confronting the COVID-19 crisis
Your Brit Hotel Tours Sud - Le Cheops adapts to your needs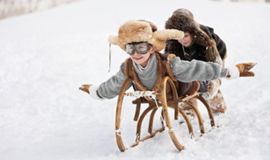 Winter holidays
Brrrr... Our prices have taken a chill! Up to -20% on your reservation, it's time to plan your winter vacation!
Let's go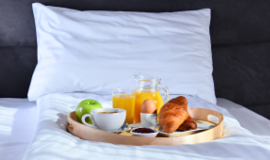 IN JANUARY BREAKFAST OFFERED ON WEEKENDS
Get your strength back as soon as you wake up! Free breakfast on weekends in January!
Let's go
Customer reviews...
... those who REALLY stayed in our hotel
Indice de
Satisfaction client
Excellent stay with congenial staff. Menu much improved with better choice of dishes and a much more imaginative presentation. Appreciated the use of local produce and producteurs. Looking forward to our next stay.
Read more
Overall excellent. Just wish I had a refrigerator and microwave.

Hotelier's response :
Bonjour Mark, Nous vous remercions grandement pour votre retour rempli de bienveillance Nous notons vos suggestions de réfrigirateur et de micro-ondes, toutefois comme vous le soulignez notre accueil en réception est 24/24. Il est tout à fait possible de nous laisser des produits à mettre au frais ou à rechauffer à tout heure ! N'hesitez lors d'un prochain séjour. Dans cette attente, nous vous souhaitons de belles fêtes de fin d'année Bien à vous, Christine
Read more
Very good. Would stay again.
Read more
Disappointed with the air con could not work while guests wanted heating, why not both working together as in most hotels ? room was too hot, and had trouble sleeping, had to leave 1 hour earlier than planned (5am)
Read more
Right on target for price versus quality. Will continue to stay here for business.
Read more
Very good experience, very friendly, helpful, professioanl staff. Nice breakfast buffet, and very decent meal at their restaurant with also lovely staff. Comfortable bed.

Hotelier's response :
Merci pour votre retour d'expérience,vos expériences sont précieuses pour une continuité dans notre travail du quotidien. C'est un réel plaisir d'avoir des précisions aux annotations. Au plaisir d'un prochain séjour au Brithotel de Cheops à Joué Lés Tours. Cordialement, Christine
Read more

Hotelier's response :
Merci pour votre commentaire, nous sommes ravis que votre séjour se soit bien passé et vous remercions pour vos remarques sur nos équipes qui ont à cœur de faire plaisirs à nos convives et clients. Nous serons ravis de vous recevoir à nouveau chez brithotel.fr Christine
Read more
Easy to access, with free parking, lovely breakfast and even lovelier staff. Merci.
Read more
I had a pleasant experience in the hotel. I didn't feel like an alien. I felt like it wasn't the first time that I've been there. They know how to make you feel welcomed
Read more
Order now your loyalty card BRIT HOTEL by registering below and enjoy many benefits.